CLIMATE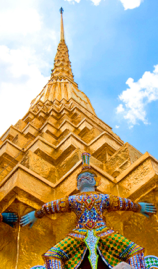 Thailand is a warm and rather humid tropical country with monsoonal climate. Temperatures are highest in March and April with average temperature of 28 degree Celsius to 38 degrees Celsius and humidity averaging between 82.8 percent to 73 percent
December is high to peak season in Thailand and one of the reasons that is the case is because the weather is brilliant. Lots of sunshine down south, little rain and the temperatures are comfortable without being scalding or freezing.
Temperatures in December will swing between low 20s and low 30s Celsius. In Bangkok and Central Thailand, you can expect a lot of clear blue skies..

SEASONS
Dry: March to May
Rainy: June to October
Cool: November to February

CLOTHING
Clothing made of light fabrics, such as cotton, linen, is suitable for outdoors in warm and humid climate. For formal occasions, a jacket and tie or Thai official costume with short or long sleeves is required for men. Blouse and long trouser suit is appropriate for women. When visiting the grand palace or important places, you are suggested to dress formally. No short pants and sleeves and sandals are allowed to enter. You may be able to rent appropriate dresses and shoes at the information counter of some visiting places.

LANGUAGE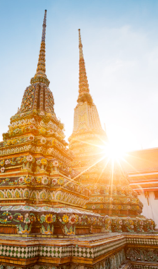 In Thailand, the standard Thai language is used, while English is a mandatory subject in public schools and is widely spoken and understood in business and tourist areas. Spoken and written Thai is largely incomprehensible to casual visitors. However, English is widely understood, particularly in Bangkok where it is almost the major commercial language. English and some European languages are spoken in most hotels, shops and restaurants in major tourist destinations, and Thai-English road and street signs are found nationwide. The congress will be conducted in English.
TIME ZONE
The time in Thailand is seven hours ahead of Greenwich Mean Time (GMT+7).

ELECTRICITY
220 volts 50 cycles throughout the country.
CURRENCY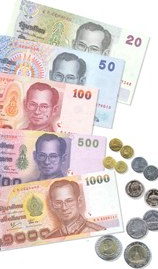 The Thai currency is called "Baht". One baht is divided into 100 Satang. Coins consist of 25 Satang, 50 Satang, one Bath, 2 Bath, 5 Baht and 10 baht. Bank notes are in 20 (green), 50 (blue), 100 (red), 500 (purple) and 1,000 (gray) baht. Currency exchange counters are available at the airport in and out of the arrival hall. Exchange rate at the airport is generally similar to exchange counters in town. The rates may be a bit better than that in hotels. (1 USD is approximately 33 Baht)
CREDIT CARDS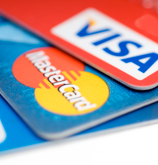 Major credit cards such as American Express, Master and Visa are wildly used and accepted. 3-5 percent additional charge may be applied in some stores. Please check with the stores before using.
BUSINESS HOURS
Most commercial concerns in Bangkok operate on a five-day week, usually from 8.30 hr. to 17.00hr. Many stores open seven days a week from 10.00 hr. to 22.00 hr.
Government offices are generally open between 8.30 hr. to 16.30hr. with a noon to 13.00 hr. is lunch break, Mondays to Fridays except on public holidays. Banks are open Mondays to Fridays from 9.00 hr. to 15.30 hr. except the bank in the department store opening until 19.30 hr.

VISA
Citizens of some countries, holding valid passports or travel documents, are entitled to visit Thailand for the purpose of pleasure for a period of 30 days without applying for a visa. Citizens of some countries can apply for a 30-day visa upon arrival. However, please check with the Royal Thai Embassy nearest to you. If visa is needed, please ensure that your visa application is approved prior to your departure.

EMERGENCY CALLS
Mobile Police: 191
Fire Brigade: 199
Tourist Police / Tourist Service Centre: 1155